The West Coast offense was one of the most revolutionary offenses when it first hit the scene. Bill Walsh helped changed the offensive playing field with his West Coast offensive system.
The West Coast Offense is an innovative horizontal passing offense based on timing and route running. San Francisco 49ers head coach Bill Walsh created the system, which is still used in many football offenses today.
The Basics Of The West Coast Offense
The West Coast Offense is a philosophy that remains relevant at every level of competition. Coach Bill Walsh is credited with inventing this system as a Quarterbacks Coach for the Cincinnati Bengals.
Coach Bill Walsh started to implement the west coast offense with his quarterback Greg Cook in Cincinnati.
However, when Greg Cook went down with an injury, Coach Walsh had to turn to his backup, Virgil Carter. Virgil didn't have a strong arm, but he was very accurate with his passes.
Coach Walsh created the west coast system based on short to intermediate passes from the quarterback. This allowed the offense to stretch the defense horizontally, forcing them to cover all 53.3 yards wide.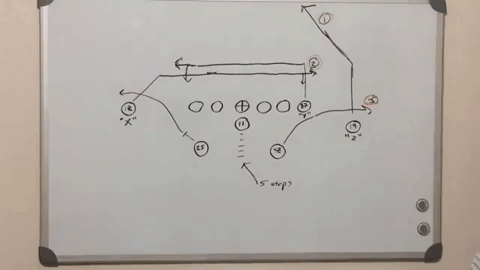 Due to the short passes, coaches often referred to this offense as a "nickel and dime" offense. However, this is an efficient offense that has proven to be more than capable of winning championships.
Running Game
The West Coast Offense system relied heavily on a power running game. The power run game allowed the offense to throw play action, which we'll discuss in just a moment.
Running plays like power, trap, and iso plays were common in the West Coast system. Iso is a fundamentally sound play that is easy to execute by bigger offensive linemen. Many refer to it as big-on-big football which relies on 1 on 1 blocks as well as combo power blocks.
In order to move the football effectively in the West Coast System, a power run game is necessary so the offensive coordinator can set up the passing game.
Running backs like Rodger Craig needed to be able to run in between the tackles but also be effective in the passing game. This was very different in the 80's, as most running backs were used to run the football and that's it.
Passing Game
The passing game relied heavily on short and intermediate passes. These passes were often thrown to the wide receivers running across the field or to the running back who was quick into the flats.
Sure handed receivers such as Jerry Rice thrived in the West Coast System because all they needed to do was catch a short pass and make players miss.
Drop back passing plays in the West Coast Offense include layered concepts such as flood, snag, and sail.
The passing game also relied on mobile quarterbacks to be accurate as they moved the pocket. That's why quarterbacks like Steve Young were so successful in the West Coast System.
The running game in the West Coast Offense was often run out of split backs. This allowed the running backs to get into the flats, catch swing passes, or run option routes as fast as possible.
Coach Walsh also used the tight ends as blockers and pass catchers, which was rare and new at the time. The tight end variation eventually paved the way for players like Travis Kelce and Rob Gronkowski to be successful.
West Coast System
One of the most common ways to identify the West Coast Offense is to listen to the play call. It is super long and very hard to remember.
West Coast Play Call
Scatter To West Right Tight, F Left, 386 X Stick Lookie
This is a normal play call in the West Coast Offense. Let's break down this play call.
Scatter To West Right Tight – Formation that the offense will start in.
F Left – This brings the F receiver in motion to the left
386 – Protection and footwork the quarterback needs (also play action will be involved in this number)
X Stick Lookie – Pass concept the receivers will be running.
The reason coaches will have long play calls is because it gives the offensive coordinator flexibility to customize every part of the play.
Walsh's offense consists of three step drops and five step drops by the QB. He is famously saying that the best attribute a quarterback can have is their footwork.
The essence of the West Coast system is rhythm & timing, and ball protection. With a passing attack based on short throws, there is a smaller chance of homerun-type plays.
Consequently, higher completion percentages are expected and, with that, fewer turnovers. Below is an example of the type of formation and play Coach Walsh would run:
It is important to note that Coach Walsh won three Super Bowls with this offense. Joe Montana, Steve Young, and Jerry Rice are all now in the Pro Football Hall Of Fame.
Additionally, Roger Craig, Dwight Clark, and Tom Rathman were among many Pro-Bowl caliber players on offense during this era. Watching their highlights from the 49ers almost certainly means you are watching the WCO. Lastly, this means that "The Catch" came from this philosophy as well.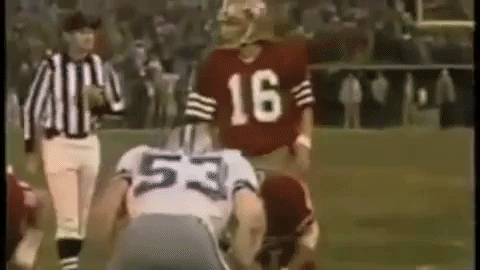 West Coast Offenses In Today's NFL
The west coast offense has one of the largest coaching trees in today's game. Coaches who were directly influenced by Coach Bill Walsh, continue to run a variation of the west coach offense. Because it's such a dynamic offensive scheme, its core principles can be found in most offenses.
For example, Andy Reid runs a version of the West Coast Offense that has won Patrick Mahomes 2 Super Bowls (to date).
Other notable quarterbacks to win Super Bowl From The West Coast Offense are Joe Montana, Steve Young, Brett Favre, and Matt Stafford.
Jon Gruden, Andy Reid, Mike Shanahan, Kyle Shanahan and Sean McVay are notable head coaches who run the West Coast Offense.
Keep Learning
The West Coast Offense is just the tip of the spear with offensive scheme and structure.
We help grow your football IQ even more with our Ultimate Football Guide. Click below to get started!
Instantly improve your football IQ
Grow your football knowledge & outsmart your friends and colleagues
A complete breakdown of rules, offensive and defensive concepts