The West Coast offense was one of the most revolutionary offenses when it first hit the scene. Bill Walsh helped changed the offensive playing field with his West Coast offensive system.
The West Coast Offense is an innovative horizontal passing offense based on timing and route running. Bill Walsh was the leader in creating the system, which is still used today.
7 positional courses
Coach any position on the field
Instantly improve your current positional group
Exclusive access to our staff to help answer your questions
Instantly improve your football IQ
Grow your football knowledge & outsmart your friends and colleagues
Learn schemes, plays, formations & more
Complete breakdown of rules, offensive and defensive concepts
Best course for beginners to learn football
Intro courses that provide you the skillset to talk football like a pro
Engage with your spouse during and after the game
No more boring Sundays, everyone can enjoy football!
The Basics Of The West Coast Offense
The West Coast Offense is a philosophy that remains relevant at every level of competition. Coach Bill Walsh is credited with inventing this system as a Quarterbacks Coach for the Cincinnati Bengals. This "Air Coryell" offense was originally called the West Coast Offense, but when one player mistakenly called Coach Walsh's system "The West Coast Offense," the name stuck.
This style focuses on short-to-intermediate, precise routes run by receivers. Sometimes, this style is called "nickel and dime" defenses. However, this is an efficient offense that has proven to be more than capable of winning championships.
This contrasts with the "Air Coryell" offense mentioned above, which is known for attacking downfield.
How It Looks On The Field
Walsh's offense consists of 3, and 5-step drops by the QB with routes that rely on the Tight Ends Running Backs, and Receivers. This includes swing passes to the Running Backs and hitches to the Tight End with a regular route tree for receivers.
The essence of the West Coast system is rhythm & timing and ball protection. With a passing attack based on short throws, there is a smaller chance of homerun-type plays.
Consequently, higher completion percentages are expected, and with that, fewer turnovers. Below is an example of the type of formation and play Coach Walsh would run: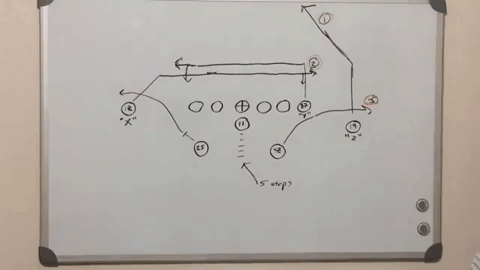 It is important to note that Coach Walsh won three Super Bowls with this offense. Joe Montana, Steve Young, and Jerry Rice are all now in the Hall of Fame.
Additionally, Roger Craig, Dwight Clark, and Tom Rathman were among many Pro-Bowl caliber players on offense during this era. Watching their highlights from with the 49ers almost certainly means you are watching the WCO. Lastly, this means that "The Catch" came from this philosophy as well.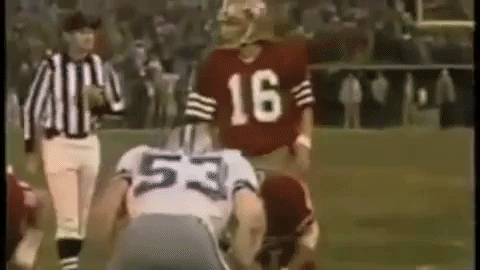 Below are some more features of the system:
Features a well-balanced attack of the pass and run
Originally the system called for a zone run scheme
In the decades since its inception, power running schemes have also shown success
Bill Walsh loved the "Play-Pass," also known as a play-action, where the run fake is meant to open up the passing lanes for his QB. Coach Walsh went on to say, "I truly believe it is the single best tool available to take advantage of a disciplined defense."
Utilizes pre-snap motions to generate match-up issues and confusion with the defense
Due to innovations in offenses, the WCO has also been implemented for shotgun-based offenses.
The WCO can be installed at a lower level of football with 10-15 core pass plays and 5-6 core running plays.
His philosophy is in NFL offenses today.
Finally, if you have more questions about the West Coast Offense, let us know below!