High school, college, and professional football teams are built in the off-season. To maintain proper health and lower the risk of injury, teams must consistently weight train. That's why digital football weight room management software is a necessity.
Strength coaches are often overwhelmed with stacks of papers and manually checking player improvements by hand. Weight room management software is one way to stay organized, hold players accountable and reduce paper waste.
Weight room management software, like Teambuildr, helps take the stress out of the in-season and off-season weight lifting schedule.
We're going to dive into the main features of weight room management software and how they can be implemented in your program. Here are the items we'll be covering about the software:
Mobile App
TV Features
Weight Room View
Exercise & Program Templates
Reports
Sports Science
7 positional courses
Coach any position on the field
Exclusive access to our staff to help answer your questions
Instantly improve your football IQ
Grow your football knowledge & outsmart your friends and colleagues
A complete breakdown of rules, offensive and defensive concepts
Best course for beginners to learn football
Engage with your spouse during and after the game
No more boring Sundays, everyone can enjoy football!
Using a Mobile App To Manage Your Weight Room
No more messy papers, no more sheets getting dirty because the players left them out to get stepped on. Weight room management software has made it easier to track everything directly from the player's phone. As we know ourselves from our mobile app experience, sometimes mobile is easier.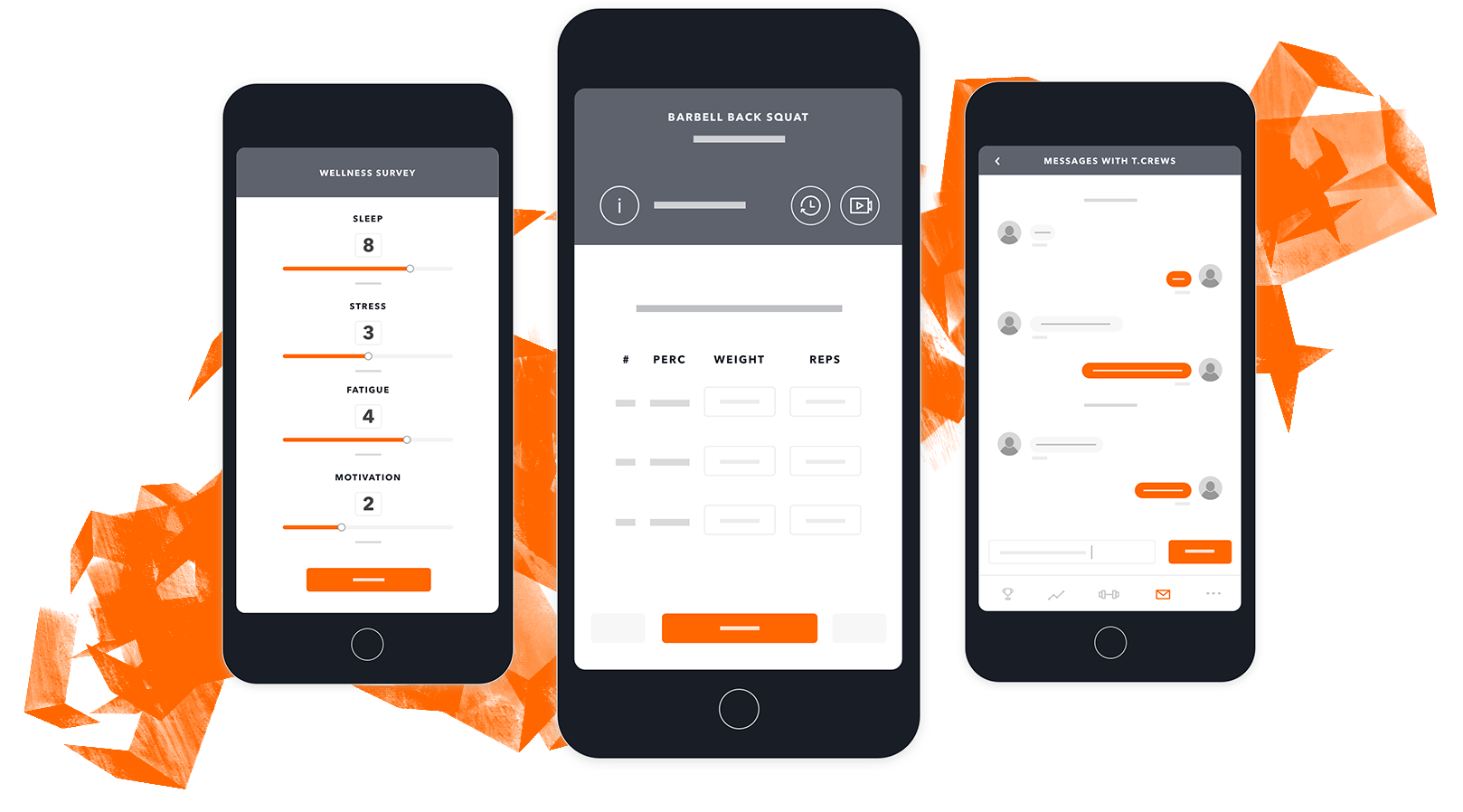 The mobile app allows players to enter their weights, reps, and workouts, all from a user-friendly, easy-to-use dashboard. The player's weights are fed directly back to the coach. Players are also able to communicate directly with their coach for instant feedback on their lifts.
As a coach, the stigma is that players will be texting and busy on their phones while they're supposed to be lifting. This is not the case in fast-paced weight rooms. What's been most beneficial for us is working in groups of 3:
1 Player Is Lifting
1 Player is Spotting
1 Player Is Writing In His Weights To The Mobile App
This forces players to enter their weights fast and efficiently before their next set.
As most football players are visual learners, the mobile feature is a great visual representation of player improvements and declines.
TV Features
Most weight rooms feature a TV with nothing playing on it or a sports show playing in the background. Put the TV to use!
TVs are great to showcase the workouts for the day and a timer for when to begin lifts. Instead of using a whistle or letting players lift at their own pace, coordinate via the TV when everyone lifts to be more efficient.
For example, if your weight room has 27 players who attend the off-season lift ( while the other players are in-season with basketball, baseball, track, etc.) with 3 benches/squat racks as well as space to hang clean, it would be beneficial to have 3 groups of 9. Of those 3 groups:
3 Players Per Group
3 Lifts On The TV With a Countdown Timer
All Players Are On The Same Lift Schedule And Rotate To The Next Lift Evenly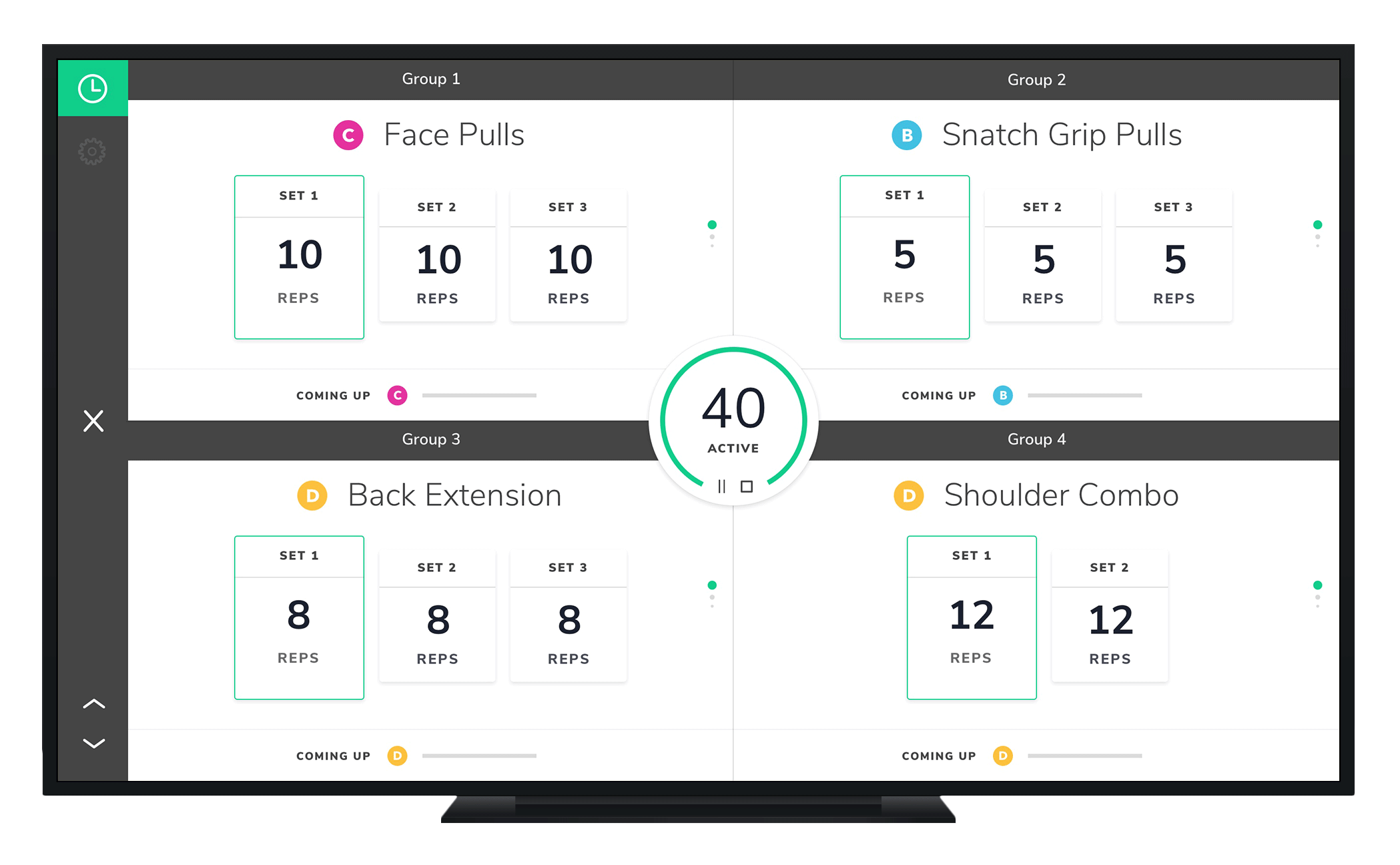 The countdown timer is beneficial to make sure every kid gets his lift in and takes the stress off the coach to manage which lift everyone is on.
Weight Room View
If there's no TV available, the team can still visually show their lifts with rack-mounted tablets.
As shown in the video above, Mob Armor's technology can be used to stick any iPad to the squat rack. This is great for a few reasons:
If you still don't want your players on their phones, they can enter the information directly on the iPad
If there's no TV available, the timer can reside on the iPad
Full lift overview displayed throughout the weight room
Because the weight room software is available on both Android & IOS platforms, it will work with an expensive iPad or even a cheaper Android-powered tablet.
Exercise & Program Templates
If you're like most small schools, you have a coach or volunteer-run the strength and conditioning program. Oftentimes these coaches are overwhelmed with game planning for the upcoming season, on top of making sure the players are conditioned and at maximum strength.
Exercise and program templates are great for taking the guesswork of what body part you should work on and on which day.
These programs are crafted by current/former professional and college strength and conditioning coaches, who understand the functional movement of a football player.
Companies like Teambuilr offer free sample templates so you can understand how these programs are designed before you buy.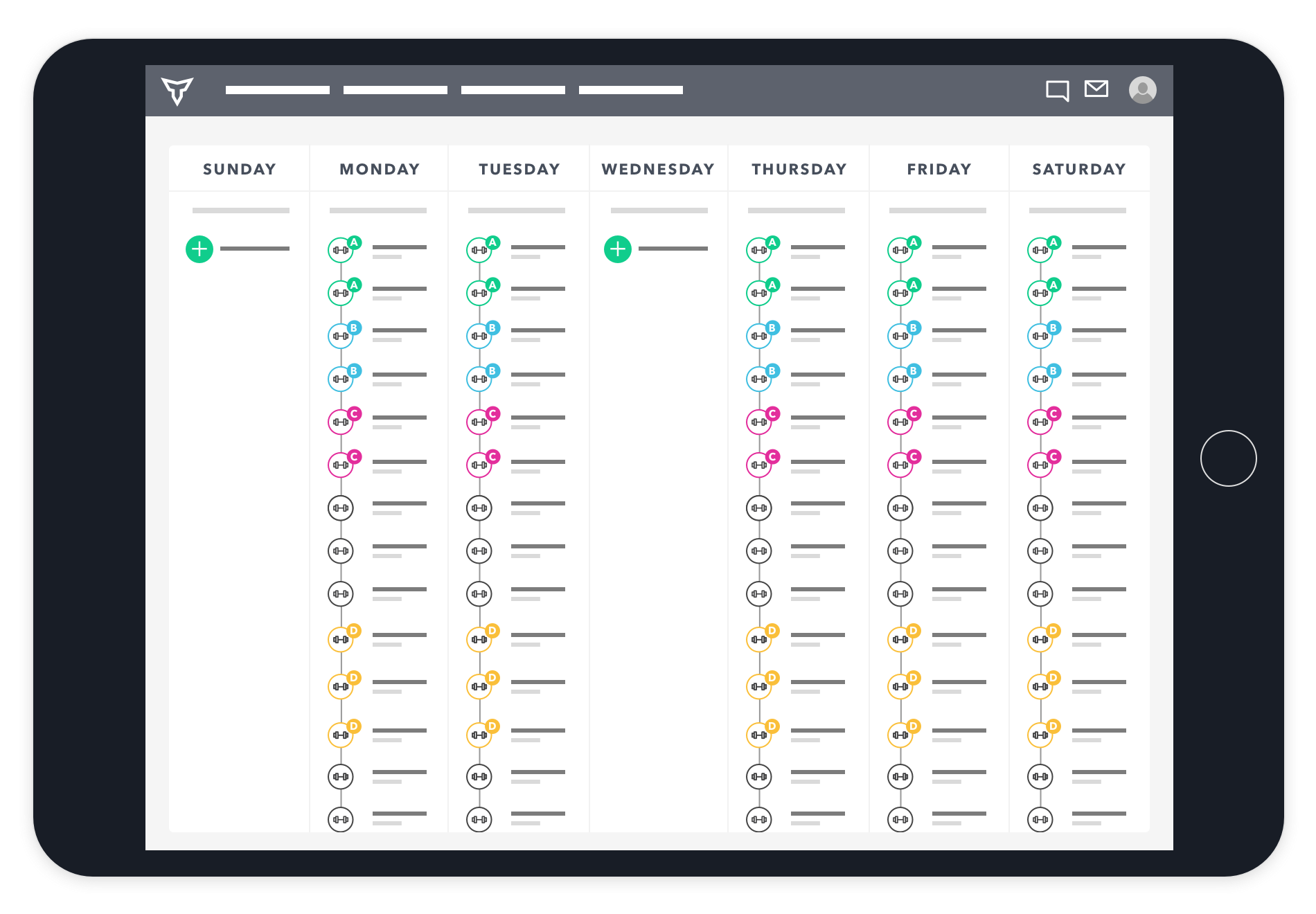 In many cases, along with just written templates, video tutorials are available for coaches. This is a huge boost as coaches can now know the exact coaching cues to teach a player. This will minimize injury risk, and it will also allow the player to self-correct flawed lifts.
Player Reports
As we're analytics nerds at vIQtory, this is one of my favorite weight room management software features. Easy to read, detail-oriented charts are available, which have all of my player's lifts.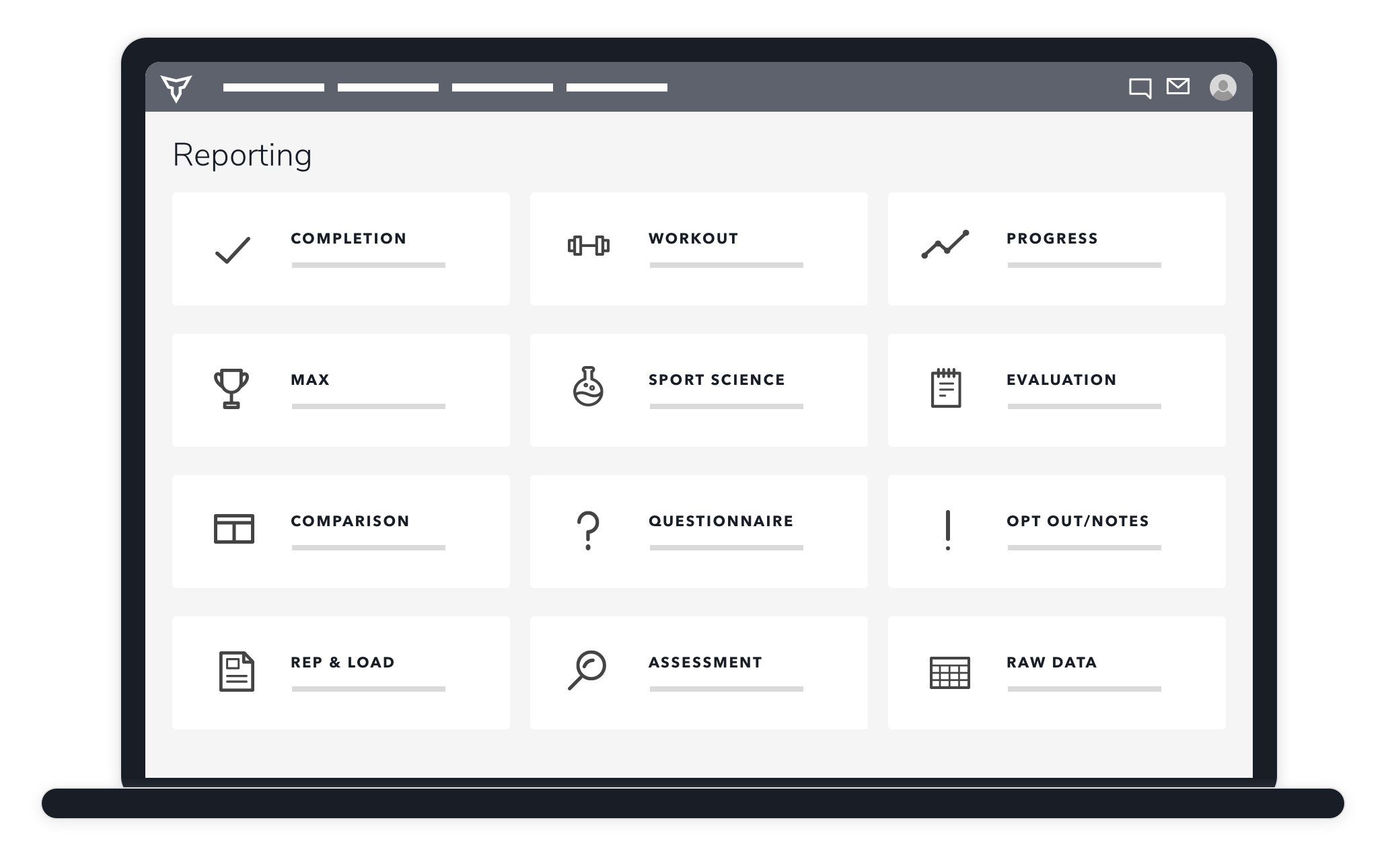 Some of the readily available reporting features:
Completion: See the lifts each athlete completes
Max: Keep track of 1RM and the leaders of your weight room
Progress: Reward players who show up consistently and have completed all of the lifts
Comparison: Have 2 players who are pretty much even on the field? Make it a competition in the weight room.
As explained by Teambuildr:
Data is not useful unless it is actionable. Often times simply aggregating and visualizing data in way for it to work can be inefficient to the point where most programs do not run extensive reporting. Even for strength programs that practice regular reporting, not all data is collected or not every desired report is created due to constraints.
Sports Science Breakdown
What is sports science? In this case, the sports science we're referring to is the ability of an athlete to manage both the physical and mental aspects of training. This includes:
Stress
Fatigue
Motivation
Sleep
High school & college athletes have a lot on their plate. Between football, school, and social life, it can be a lot to manage. Understand how your players are managing the above with built-in questionnaires and surveys.
Player Goal Setting
Last and certainly not least is goal setting. Setting goals at both the beginning of the off-season and the start of the season is crucial for success. It pushes players to reach that goal when they step into the squat rack, bench press, or platform.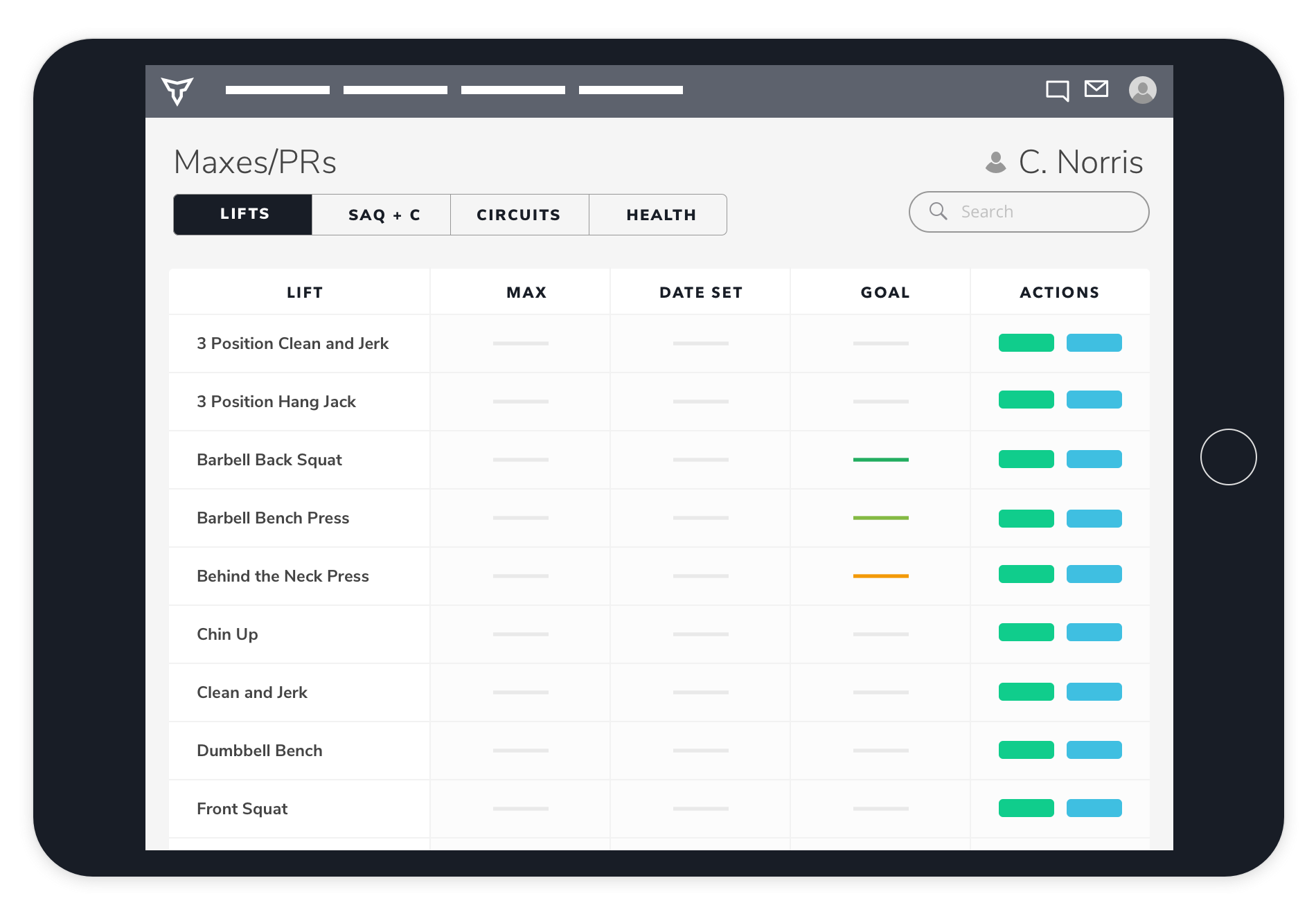 Goal setting can be customized by both individual and group goals. It allows players to see the date they set their goals and how far along they've come from the start.
Another major factor of goal setting is accountability. If you have players who frequently miss lifts or are lazy in the weight room, this is a great way to make sure they stay on pace to achieve their goals. It pushes lazy players to improve each week in the weight room. As head football coach at Hope College, Dan Margritz states:
"Our program relies heavily on making athletes accountable to specific goals. TeamBuildr communicates their progress every day with a smartphone so they always know where they stand. The technology and updating of goals with TeamBuildr is top notch."
Conclusion
Weight room management software, whether it's in-season or off-season, is a must for 2019 and beyond. We recommend checking out the platform Teambuildr if you're looking to improve your weight room.
We've linked up with the guys over there to get you a few throw-ins if you decide to go with them:
Standard In-season and offseason
10-Week Spread offense training (for running and defending against the spread offense)
Gameday Lifting Program (CNS Primer)
Use the promo code "vIQtory" to get the items above!
If there are any questions on Teambuildr or you want to get our opinion on certain features, please contact us directly at [email protected]!
Coaches Using Teambuildr
Frequently Asked Questions
What Are The Benefits Of Weight Room Management Software?
A: It essentially turns into your all-in-one reporting system. No more lost papers, messy pages, or kids forgetting to fill them out. Everything is operated from the phone or iPad, allowing coaches to get slick reporting and analytics from their players.
How Easy Is It To Implement It?
A: Extremely easy! Add all of your players into the system and start recording the data! Great for both in-season and off-season workouts and allows coaches to focus on what's most important, game planning.
I Have A Small Team, Should We Still Use It?
A: In our opinion, yes! Teambuildr has different plans to fit different size programs. Currently, their lowest plan costs $500, which covers 100 athletes the entire year. Regardless of the size of the team, it's a simple solution to staying organized.
I Don't Want My Kids On Their Cell Phones, Is There An Alternative?
A: Yes! If your team has iPads that you film with or just tablets in general, you can download the Teambuildr app. Then you're able to have 1-2 tablets where all the players can enter their information. This is a great solution to keep players off their phones and focused on their weights.